Sealing Cutting Machine for Sheet Protector and Card Holder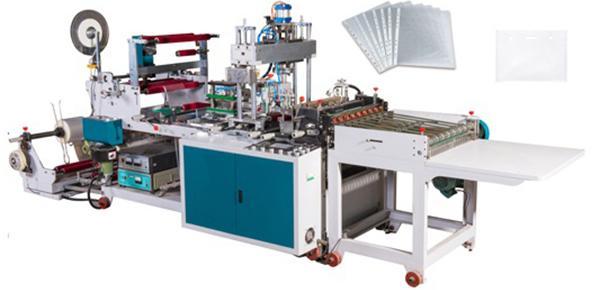 The sealing cutting machine carries out switching between the mold and programming for the production 11-hole sheet protectors, card holders and inner pockets for display books.
It uses a servo motor to control the display book length, ensuring machine operation is stable and the sealing cutting position is accurate.
The material receiving table is equipped with a counter, making counting and packaging easy.
This multifunctional production machine has an overall size of 6200×1400×1900mm, and is mainly suitable for small scale manufacturers of small orders of these products.
Process display
Raw materials
Material receiving
Trimming
Ultrasonic punching
Hot stamping
Sealing cutting
Material receiving
Finished products
Raw materials
Material receiving
Ultrasonic punching
Hot stamping
Finished products
Main advantages
The sealing cutting machine is specially designed for data bags. It uses twin line operation and the production process, from raw material processing to the final product, is completed on a fully automatic production line, which saves labor costs and improves the production capacity.
The machine uses a special cutting and sealing synchronous process, so that the data bags are all the same size, and feature a smooth, neat seal. This also decreases raw material wastage.
This machine uses a variety of precise and durable punching dies, ensuring an extremely low fault rate.
The sealing cutting machine can be paired with a variety of control and monitoring systems, and it will automatically stop working and sound an alarm is there are any problems during operation. This avoids wasting materials, and will protect the equipment.
Technical parameters
| | |
| --- | --- |
| Model | SYS-17-700SPH-M |
| Power | 3.7 KW |
| Require Air Pressure | 1.5MPa |
| Main Motor | 2HP 6P with inverter |
| Effective Sealing Width | 150mm-600mm |
| Effective Sealing Length | 50mm-550mm |
| Sealing Thickness | 0.035mm-0.1mm |
| Capacity | 120-150 (pcs/min) |
| Machine Dimension | 6200×1400×1900mm |