Document Pocket Punching Sealing Machine with Servo Motor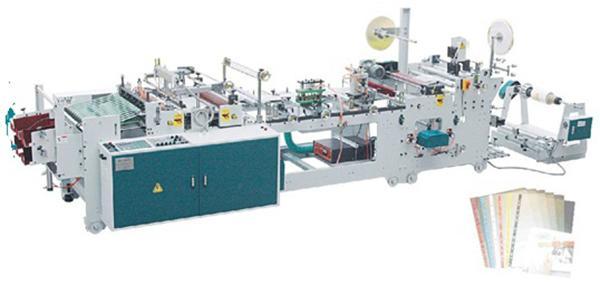 The document pocket punching sealing machine is used to produce document pockets in a variety of specifications and models, making it a necessary piece of equipment for stationary production. It carries out one-time automatic completion of raw material unwinding, double fold molding, ultrasonic rolling point sealing, punching, foil stamping, transverse sealing and cutting. The pockets produced are not only smooth and beautiful, but also firmly welded.
This single line pocket production machine is suitable for PP roll materials. The single line production line is not strict with the raw material thickness, and can handle raw materials in a variety of specifications.
Process display
Raw materials
Trimming
Foil stamping
White strip placing
Edge sealing
Punching
Bottom sealing and cutting, Up and down interchange collector
Finished products
Raw materials
Foil stamping
White strip placing
Punching
Bottom sealing and cutting, Up and down interchange collector
Finished products
Technical parameters
| | | |
| --- | --- | --- |
| Max. Cutting Size W×L | 22×20/22×9(mm) | 28×20/28×9(mm) |
| Film Thickness | 0.03mm-0.1mm | 0.03mm-0.1mm |
| Production Per Min (PC) | 60-120 | 60-120 |
| Motor | 3HP | 3HP |
| Heater | 1.5KW | 2KW |
| Power Required | 3.7KW | 4.2KW |
| Machine Dimension L×W×H | 240mm×55mm×65mm | 240mm×59mm×65mm |
| Packing Volume L×W×H | 150mm×63mm×73mm | 150mm×67mm×73mm |
| Net Weight | 1700KG | 1800KG |
| Gross Weight | 1900KG | 2000KG |
Optional accessories
Air compressor
11-hole punching die
31-hole punching die