Photo Sleeves Making Machine with 3 Layer Edge Folding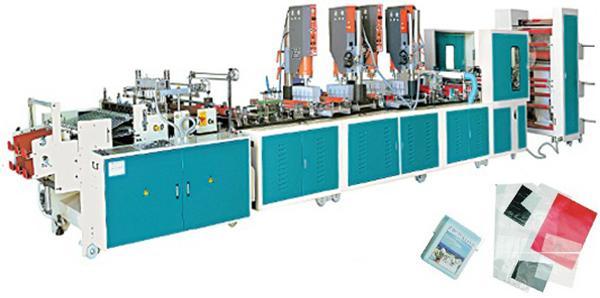 The photo sleeve production machine is designed specifically for a variety of 3 layer photo sleeves and business card sleeves. All processes, from material feeding to the finished product retrieval, are completed on a fully automatic production line, saving labor costs and increasing production capacity. The working table is equipped with 3 ultrasonic devices, two of which can move forward and backwards. They are used to produce a variety of photo album inner pockets and business card pockets.
Process display
Raw materials
Folding
Ultrasonic welding
Cutting
Finished products
Finished products
Mechanical properties
The main control system uses an integrated electrical appliance box imported from Taiwan, and utilizes a fully automatic operation mode control.
This photo sleeves making machine can be paired with a variety of control and monitoring systems that will keep it from working automatically, and sound an alarm if there are any problems during operation. This not only avoids material waste, but also protects the machine.
The sealing device uses multiple ultrasonic sealing sets, so that product seals are beautiful, smooth and firm.
The feeding frame uses vessels with an automatic edge aligning and tension control. Operation is simple and convenient.
This machine can add fillet punching dies and work with computer operation in order to make fillet photo sleeves.
Technical parameters
| | |
| --- | --- |
| Model | SYS-21-700-SSP |
| Max-Cutting L Size | 250mm-550mm |
| Max-Cutting W Size | 150mm-600mm |
| Film Thickness | 0.03mm-0.12mm |
| Production Per Min (PC) | 40-120 pcs |
| Motor | 8HP |
| Heater | 2.0KW |
| Power Required | 12KW |
| Machine Dimension L×W×H | 380m×60mm×75mm |
| Measurement L×W×H | 225mm×86mm×83mm |
| Net Weight | 4500KG |
| Gross Weight | 5000KG |
Optional accessories
Up and down interchange collector
Hot stamping device

8mm hole punching device
6mm hole punching device