Oil Heated Drying Mixer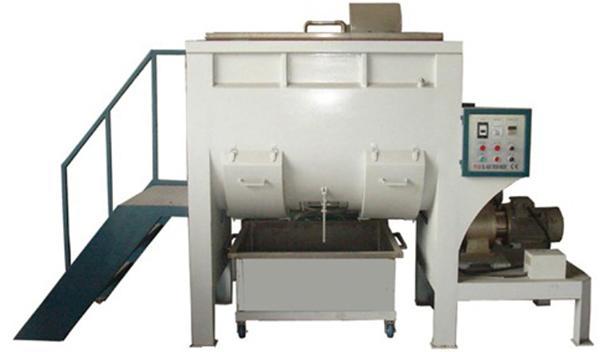 The oil heated drying mixer is designed with a double-layer U shape barrel whose inner wall is entirely made of stainless steel material and it can be used for stirring and heating operations. Oil heated drying mixers are usually used for the dyeing, pelletizing, modifying and regenerated material recovering of plastics, the mixing of PVC, TPR, TPE, PP and PE materials and the stirring of calcium carbonate, barium sulfate, talc and fire retardant materials.
This drying mixer uses heat conductive oil as a heating medium. The standard temperature is 50-150℃ and the highest can reach 300℃. It is suitable for the stirring of large amounts of plastic particles and powder, new materials and old materials, and it can also be used for the mixing of many kinds of colored materials.
Features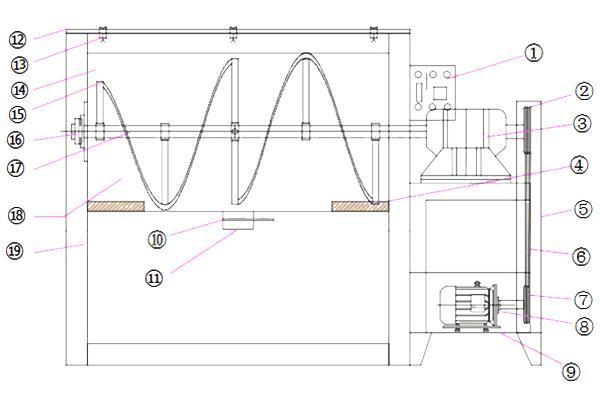 ① Electric box
② Gear reducer wheel
③ Gear reducer
④ Heating strip
⑤ Belt cover
⑥ V belt
⑦ Motor wheel
⑧ Electric motor
⑨ Motor frame
⑩ Discharging handle
⑪ Discharge outlet
⑫ Flap
⑬ Clasp
⑭ Shaft
⑮ Paddle
⑯ Bearing
⑰ Principal axis
⑱ Barrel
⑲ Side plate
Technical parameters
| | | | | |
| --- | --- | --- | --- | --- |
| Model | Capacity | Motor Power | Dimension (L×W×H) | |
| SYS-YR100 | 100KG | 2.2KW | 1400×720×1430mm | |
| SYS-YR200 | 200KG | 3KW | 2200×840×1600mm | |
| SYS-YR300 | 300KG | 4KW | 2300×1060×1850mm | |
| SYS-YR500 | 500KG | 5.5KW | 1960×1200×1780mm | |
| SYS-YR1000 | 1000KG | 11KW | 2650×700×2200mm | |